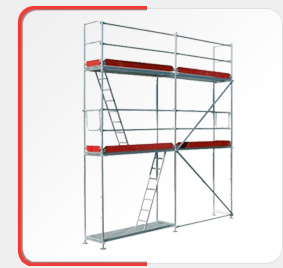 Facade scaffold
are designed to carry out all construction works. They are mainly used by plasterers, painters, roofers, etc. as wall scaffolds.
PLETTAC is one of the most popular scaffolding systems used on our construction sites.
This type of scaffolding is perfect for works relating to façades of detached houses as well as big buildings and commercial objects. Thanks to the choice of various platforms made of diverse materials, that is wood, steel or aluminum, the installation is very easy. Moreover, all the scaffolds are easy to assembly, the whole construction can be quickly and easily assembled and disassembled thanks to the use of ratchets. So, even people without much experience can cope with the installation.
A special emphasis during production is put on the quality. Galvanized surface of steel elements guarantees high resistance to corrosion. An additional element that improves scaffolds resilience is the choice of good quality impregnation for wooden platforms.