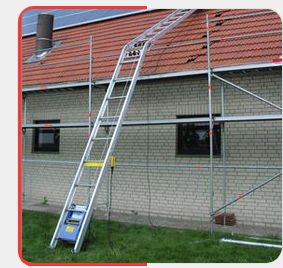 Inclined lift with line drive is the most popular model of device for vertical transport among construction companies. Manufactured and used for years, it is a well-known tool among roofers.
The
lift
is
perfect
for
indoor
works
and
renovation
works
of
flat
roofs.GEDA-LIFT
meets requirements of roofing companies and other construction contractors. Both inclined single-level and double GEDA
FIXLIFT
have proven their versatile advantages.
Relatively high load and operating range which allows to transport tools and materials, as well as simple construction make it a universal working device for many branches. Used materials, finishing and drive eliminate unnecessary outages and maintenances.
Thanks to the segment construction, it can be adjusted to individual clients' needs, and the vast choice of additional accessories significantly enhances functionality.
GEDA
lifts
can
be
used,
among
others,
in:
Roofing works – transport of tiles, tar paper, and other materials to the roof,
Transport of windows, solar panels, etc.
Transport of mortar, bricks, gypsum boards, cement, tiles with the possibility to pass over directly to a balcony, inside the building, window.